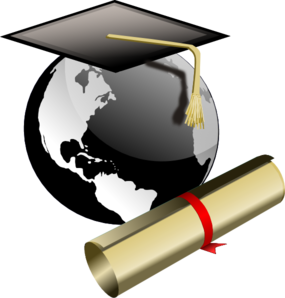 Are you graduating this school year? If so, are you excited? Scared? Neutral? The most important thing is whether you made the most of your unique opportunity. Did you learn useful skills and pick up an internship? Did you apply yourself and earn good "grades?" Did you work hard and get a leg up on the average public school graduate?
If you did, good job! If you didn't, it's too late now. Either way, here's some things to consider before you graduate.
Look into your local community college
If you want to go to college at all, community college is your best bet, and not just because it's cheaper. As I've mentioned before, community colleges will accept you. A homeschool transcript in no way guarantees entry to a four-year college, but a two-year college? Pass the tests and you're in.
Cleanse your school snobbery. In a community college, homeschoolers work alongside forty-year-old veterans and poor geniuses. It's a GREAT place to meet people, find a job, and build on your already impressive knowledge. The best part is you can get scholarships and federal aid to make college even cheaper.
Even if you're not planning on "going to college," understand an Associate's Degree is quickly becoming the new high school diploma. We live in a more complex time, and every Human being in the developed world needs more skills to get by now than any time before. You may not see the benefit to a full diploma but, I assure you, a couple semesters in and you'll have more useful skills than you thought you would.
Make the most of your graduation
You have a unique opportunity to hold your graduation wherever you want! I graduated in Central Park, NYC, but if you want to grab your diploma in the keys, the only thing stopping you is money. You don't even need a graduation party if you hate parties, but where's the fun in that?
Double-check your transcript
Before you graduate, double-check your transcript and make sure it abides with state laws. Remember state laws are always changing, and the same laws you worked with four years ago are not the same ones today. The need for accredited diplomas is shrinking, but you can still get burned for missing core classes.
Here are some other useful links on homeschool graduation:
Infographic of required credits
Frequently Asked Questions: Accredited Diplomas
Resources for Testing and College Preparation
I'm off to be a luddite for seven days. Have a great week, everyone, and enjoy your Christmas Break! Tune back in next week for my final article where I will sarcastically reminisce on the home Homeschool Blog experience.