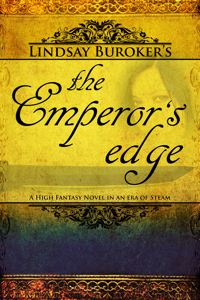 I have recently read The Emperor's Edge, by Lindsay Buroker.  Let me tell you, this book is…amazing.  I have a Nook, and when it came across my daily emails as a free deal, I thought, "Why not?"  The plot sounded interesting, and I only had one other book on my Nook at the time.
It sat there for a while, while I finished up other books and read necessary books for school.  However, eventually, I decided to start it because it was next up on my list of e-Books.  I have to admit, that the first chapter is really hard to get into.  I started it, but was intimidated by how long the chapter was, and hadn't "connected" with the book yet (which always makes it really easy to put down), so I read probably three pages, and then moved onto another book that really interested me.  That book actually didn't turn out as good as I was expecting, so after I finished it, I came back to this one.
I decided to give it another chance, and forced myself to read the first two chapters.  By the time I was finishing the second chapter, I was hooked, and could not put it down.  This book is really unlike any I've ever read; it's thrilling, original, and full of action.  The escape methods used are ingenious, and the characters are actually smart.  Like, this author really put time into them to make them the intelligent people they are – people who can improvise when needed.  Granted, at times I felt like I could never come up with those kinds of things…but that's probably just because I'm me, a homebody writer, and not a former enforcer (police officer) like the main character Amaranthe Lokdon.
All of the characters in this book are extremely well developed, and I could feel a connection with each one – even the world-famous deadliest assassin.  Actually, especially the assassin.  I don't know what it is, but I always gravitate toward liking the bad guys more than anyone else.  That's probably not a good thing, but it's true.  Anyway, all the characters have believable back-stories, secrets, mysteries, and distinct traits.
Moving on from characters, the plot is ingenious and SO well developed.  These books (for there are three, and I'm almost done with the second) make me feel like I really need to step my writing up a notch.  I definitely pay attention to the writing styles used here, but realize that Buroker is not only an extremely talented writer and author, but a genius.
I suppose I should actually tell you the plot line.  This book is about an enforcer who is sent, from the Emperor's advisor, to do an impossible mission that ends up almost getting her killed.  When she realizes that it was all a set-up and that the advisor is actually controlling the Emperor, she bands up with a group of people who aren't exactly savvy with the law.  In order to save the Emperor, they have to go around some laws, and end up with bounties on their heads.  They are proclaimed traitors and enemies of the Emperor, and for specific reasons, must stick with that definition in order to succeed with their cause.  They have to stay on the wrong side of the Emperor in order to help him, and keep their secrets safe.
Now that I've written my summary, let me post the "official" summary…which I believe only tells a portion of the plot. Haha
Imperial law enforcer Amaranthe Lokdon is good at her job: she can deter thieves and pacify thugs, if not with a blade, then by toppling an eight-foot pile of coffee canisters onto their heads. But when ravaged bodies show up on the waterfront, an arson covers up human sacrifices, and a powerful business coalition plots to kill the emperor, she feels a tad overwhelmed.
Worse, Sicarius, the empire's most notorious assassin, is in town. He's tied in with the chaos somehow, but Amaranthe would be a fool to cross his path. Unfortunately, her superiors order her to hunt him down. Either they have an unprecedented belief in her skills… or someone wants her dead. 
Now, for the things I didn't care for so much in the book.  First off, there's some language in it.  For the enormous length of the book (about 800 pages), it's not that much, but it's still there and it didn't need to be.  It's something you can easily ignore…but I still would have preferred if it did not have the language.
Secondly, I really, really disliked the ending.  Like, I would not stop talking about how the worst thing ever is when you're reading this amazing book and the ending is horrible.  It's pretty much the worst feeling ever, and that's the feeling this book gave me.  I LOVED the story so much that I was intensely disappointed by the ending.  However, it's all made up and taken care of if you read the second book.  I was mainly upset because I didn't have the money for the second book, and couldn't justify buying it when I have college to save up for.  But then…Bookbub sent me an email with a deal of all THREE books for only $0.99.  I mean…you can't beat that – ever.  So, I purchased it, and now I'm am happily almost done with the second book, and looking forward to the third.
I suppose another issue could be how long it was, but honestly, the story was so captivating, that I didn't really notice the length…and I didn't want it to end.  So, that wasn't a problem with me.
That's my review for this month: The Emperor's Edge, by Lindsay Buroker.  Be sure to check it out!  Oh and I wouldn't exactly classify this as an educational book, but it sure is an awesome summer read!
Website: www.lindsayburoker.com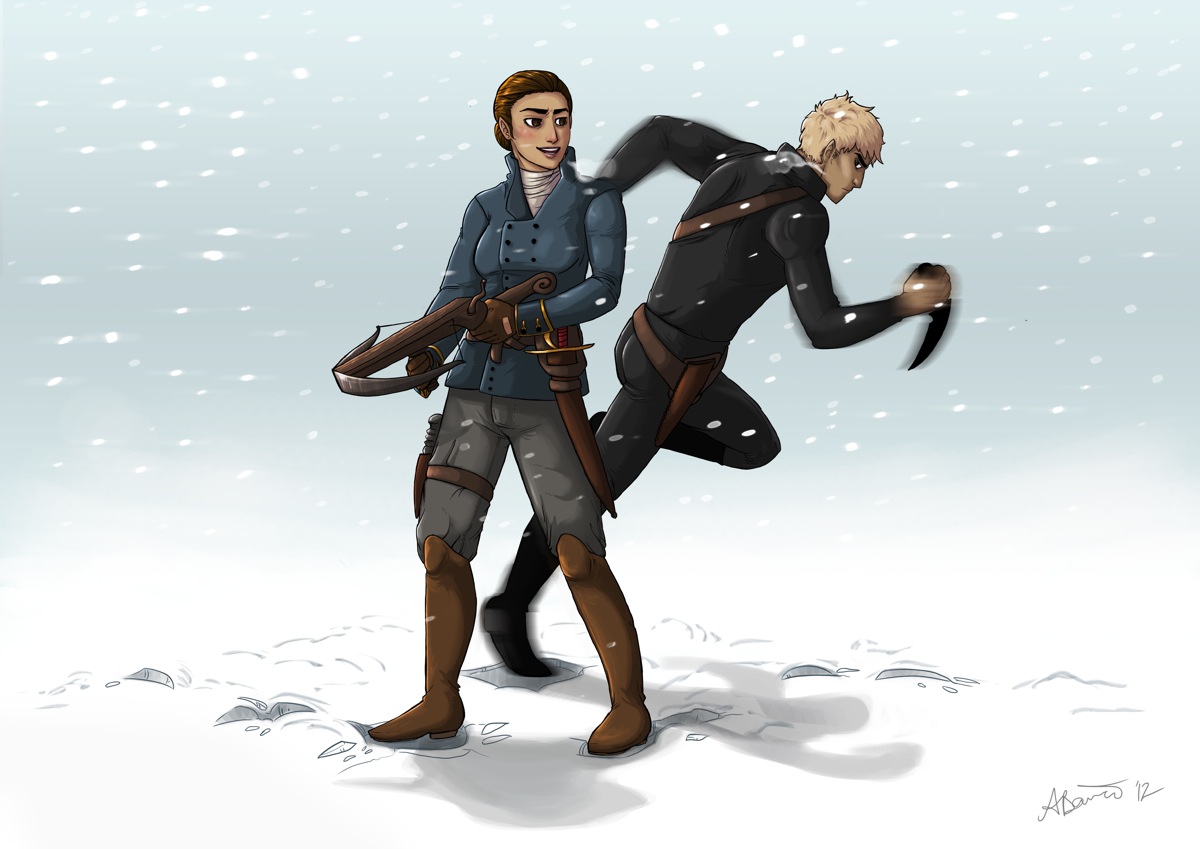 By the way, I just found out that these books were also self-published, which of course makes me happy, considering I've self-published, and will self-publish more in the future!