Four years ago, I read The Shadowcreek Chronicles, by T. Elizabeth Renich.  I was absolutely taken by them – in fact, the memories of reading those books are so dear to me that it's hard to contemplate that it's already been four years.  Still, I remember them very well – which is always a sign of a good book.  You want a book that is engaging while reading, but memorable afterward.  Some books are super enthralling while you're reading them, but afterwards, it's kind of hard to remember what happened.
There are four books in this series: Word of Honor, Matter of Trust, Not Without Courage, and Strength and Glory.  All of these books are incredible, and completely lived up to my expectations.  The last one is a little longer than the rest, but it is gripping, so I didn't really notice the length.

So, what are these books about?  The story is about a teenage girl and her family as they try to survive through the Civil War.  It is from the Confederate's side point of view, which I completely enjoyed.
Many people are ignorantly taught that the Civil War was just about slavery, and that the South was just fighting because they didn't want their slaves taken away from them.  In reality, though, slavery was only a part of the War at the end, it was a small matter in the midst of everything else.  I, of course, am glad that the South was defeated and slavery was abolished – slavery is absolutely wrong – but I personally root for the Confederates.  I believe their reasons to fight were more honorable than the Union – they were fighting for their rights, their homes, and their family.  The Union just wanted to maintain control and remain one nation.  Though I'm glad we did remain one nation, would it really have been such a bad thing if there were two?  It's something to think about it.
These books do an excellent job of portraying the war from the eyes of a young woman in the South.  I had studied the Civil War quite a bit before reading these books, but the story put it in a completely fresh perspective.  It made it real.  Like, this really happened.  Women lost the loves of their lifes – one day they were there, holding them and telling them it would be alright, only to never return.  Families were forced out of their homes and their worlds were turned upside down.  It wasn't just something that happened in textbooks – it really happened.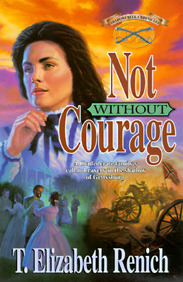 Imagine living how you are now, only to have gunfire tear about your home and your family.  That's what they went through.  I think as students in this modern age, we have a hard time realizing that everything written down in history actually happened – and to real people.  We don't realize that they were people just like we are.  How did they feel?  Were they terrified?  Were they heartbroken?  How could they so bravely put on that confident face?
Think about the martyrs in the Roman Coliseum – what was going through their minds when the animals of their death were released from their cages?  When they realized all the pain and anguish they would experience in the next moment?  When their limbs were torn off but they were still alive?
Think about the kings and queens of England – they were people just like we are.  They had problems like us, they experienced the same thing we do, they had the same feelings as us.  They were real.  History is only dry if you don't realize that these were real people experiencing real situations.
That's one of the reasons why I love these books so much – they bring History alive.  Here are the summaries from each book:
Word of Honor:
'It was the summer when Salina Hastings had her sixteenth birthday, and Jeremy Barnes returned from California.  It was the summer that Ethan, Salina's older brother, asked Taylor Sue Carey to be his wife…not long before the day the Rebels and Yankees clashed in the Battle of Chantilly.
Salina inherited a keen sense of adventure from her father, a Confederate captain and spy.  As the war drags on, the powers of loyalty and survival eventually draw Salina into risking her life in the service of her father's "Network."  Despite the dangers, Salina gathers her courage to do what she can to bring back the days she loved…days with her family, her friends, and Jeremy.
Captain Duncan Grant, a secret agent of the Union, is assigned to stop the flow of information to the South.  His orders take him on a search for the leader of this circle of Southern civilian spies.  Captain Grant's search is for the information as well as for anyone who might be able to lead him to the documents he must recover for the North.'
Matter of Trust:
'The raging Civil War has created a stage upon which true character of heart will be tried and revealed.  In this unfolding drama of conflict, the Hastings family struggles between life and death, loyalty and disloyalty, hope for a future and the dark knowledge that life will never be the same.  These are days in which each decision will bring honor or dishonor, trust or distrust, truth or deception.
Risking her life, Salina Hastings has kept her word of honor to her father, her loved ones, and to a struggling Confederacy by delivering secret documents to a rebel contact in San Francisco.  Wanting only to return to her family and beloved Virginia, she instead faces the darkness of Alcatraz and a treacherous cross-continent journey back east only to find herself caught between the threat of execution as a Confederacy spy and a deep loyalty to all that is dear to her.
Finally reunited, Salina and Jeremy find their relationship sorely tried by questionable loyalties, misplaced doubts, miscommunication, and deliberate lies as they weather the War Between the States.  Trust in God and in one another is the only way their future together can withstand the turmoil they encounter.'
Not Without Courage:
'It was spring, when the orchards of Shadowcreek would have been carpeted with soft petals freshly fallen from the apple trees.  In Culpeper Court House, where Salina Hastings now finds herself, it's hard to believe in spring.  Not even an invitation to the Officer's Ball and the rarity of her betrothed, Jeremy Barnes' company can take away the deep chill of the icy winter past.
Unable to wait on dreams postponed by yet another campaign, Salina make a reluctant journey north to Pennsylvania, only to find herself caught squarely in the path of two converging armies and a horrifying three-day battle at Gettysburg – a battle that would come to be known as the High Water Mark of the Confederacy.  Working side by side with her brother, Ethan, an Assistant Surgeon with the Medical Corps of the Army of Northern Virginia, Salina does all she can to aid the wounded and the dying.
Stranded in enemy territory, Salina finds the measure of daring necessary to continued helping her fellow Rebels, but as the armies disperse, she must face a new challenge that will require all the courage she can muster.  She must count the personal cost of the battle.'
Strength and Glory:
'The nature of the fighting between the Confederacy and Union has changed drastically from a once "gentlemanly conflict" to an all-out war of brutal treachery.  Measure in terms of human life, the costly battles, lightning-quick raids, and secret missions effect the beginning of the end of the War Between the States, as President Lincoln finally finds a commanded in Ulysses S. Grant who will fight Robert E. Lee without mercy.
Homecoming at her family's estate is nothing like what Saline Rose Hastings Barnes had ever imagined it could be.  She returns to her native Virginia as a young wife and expectant mother, only to find that the place she holds so dear has been razed by order of Yankee Major John Barnes.  Corrupted by a festering, decades-old vendetta, Barnes has sworn to annihilate not only the entire Hastings family, but also Salina's husband Captain Jeremy Barnes.  The love Jeremy and Salina have for each other, combined with their faith in the Almighty, supplies them with the strength needed to endure trials that imperil their very lives.
Unable to participate as actively as she one did in the Remnant, a civilian spy ring organized by her late father, Salina limits her war effort to nursing in a Richmond hospital and knitting socks for Southern soldiers.  As belief in the Cause crumbles and notions of glorious victory elude the struggling Confederacy, Salina dreams of life with Jeremy beyond the war, and hopes to solve a painful mystery by discovering the identity of Jeremy's true father.  When all is said and done, Jeremy and Salina can testify that all things work together for God's people, and that He alone is worthy of the glory and honor for the great things He has done.'
These books are an awesome tool for studying the Civil War.  I highly recommend them for anyone, but mainly girls and moms.